Community Members, Neighbours and Members of Burnie Brae support the proposed development of the Burnie Brae Retirement Village at 49-53 Kuran St, Chermside opposite the Burnie Brae Community Centre. We are in full support of the development of this facility to provide genuine retirement housing choices to those living in our community. The Retirement Village will allow easy walking access to the Burnie Brae Centre where seniors can partake in centre activities & events, have access to facilities such as allied health services, transport services and other aged care facilities. The proposed development site is also close to existing shops, has access to public transport and will allow seniors who currently live in our community to stay living within their neighbourhood in the long term.
UPCOMING FREE PRESENTATION: TO BE ADVISED.
Letter of Endorsement & Support
As part of our proposed development application the Burnie Brae Retirement Village team will also be submitting letters of endorsement and support from the community and Burnie Brae Members. If you would like to write a letter of support for us to submit during the application process you can email the letter to retirementliving@burniebrae.org.au, or hand deliver to the Burnie Brae Reception desk. The letter/email should introduce yourself (name, address, date etc), outline how you are related to the proposed development application and provide your list of reasons for why the proposed Retirement Village is important to yourself and also our community.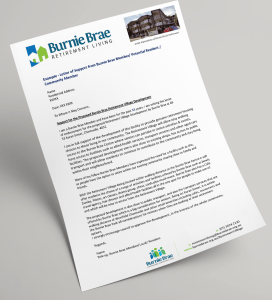 Click to view an example of the letter.
Burnie Brae has also set up an online endorsement page where you can show your support click here. Once you've clicked the link,  press  "Lodge Submission" button and follow the steps to fill out your details.